Eating desserts has to be one of life's greatest pleasures. So cosset yourself and your family with the most sensational dessert recipes to round off any meal at any time.
Here you will find hundreds of dessert recipes.
Search for Dessert Recipes:
Dessert Recipes:
Other Information: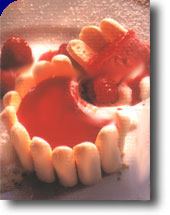 A delicious dessert for every occasion is waiting for you with an unashamed collection of sumptuous temptation. Here is every dessert recipes that you have ever enjoyed and hundreds more you haven't even heard of. There's everything you might need for every season, whether you are looking for everyday desserts recipes, quick treats for the kids, comforting nursery puddings or impressive and stylish desserts recipes for that special dinner party.

There are even collections of cold dessert recipes that gives you a great choice when looking for something for a warm summer day, to follow a rich main course, or a sweet you can prepare in advance so that you can enjoy your time with guest. There are plenty of light mousses as well as richer desserts recipes to try out for special occasions.

If you always keep a tub of good-quality ice cream in the freezer, you need never be short of an interesting dessert at the last minute. Team it with grated chocolate, a melted Mars bar, sliced or canned fruit or even just a drizzle of honey and a wafer biscuit (cookies) and serve with a flourish.